Students who train in the study of BioAcoustics have the choice of becoming a clinician, researcher, instructor or combination of all three!​
Scroll down to learn more about the courses we offer
NEW! Whirlwind - A BioAcoustic Center in Every Community
Saturday, August 15th, 2020 2-4 pm EDT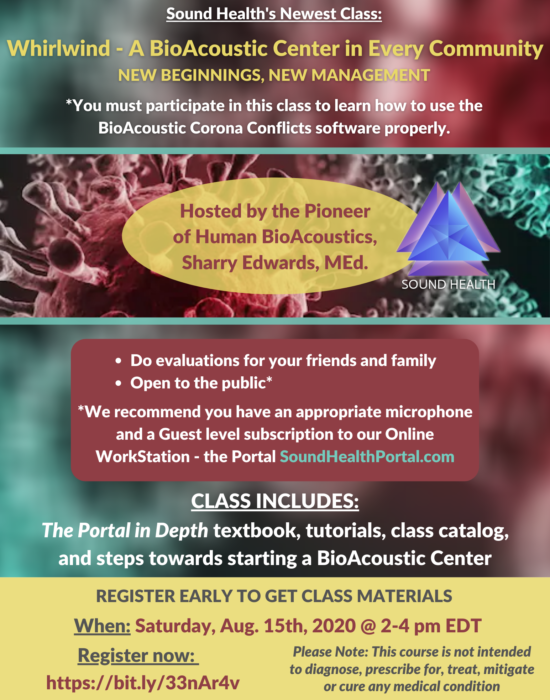 NEW! Sound Health's Class Catalog
Review our class catalog to discover all the learning opportunities we offer at Sound Health. In this catalog you will find: detailed class descriptions, tutorials, testimonials, and more!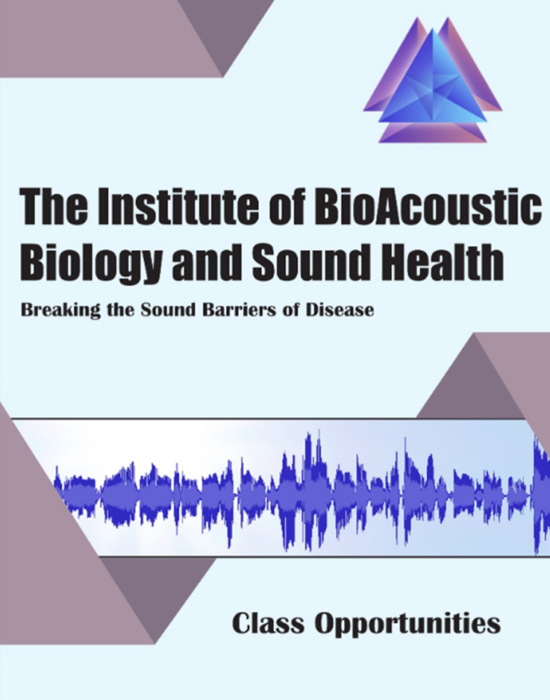 Fun Facts
Some of the exciting things going on at Sound Health!
*The purpose of providing classes and software to the public is for data gathering. Public software contains no frequency equivalents, while the Professional versions contain visible frequency equivalents that are used for research and client tone trials.
558
Annual BioAcoustic Students
We have new students enrolling every month. Join them today and find your place in the world of BioAcoustics! Students who train in the study of BioAcoustics have the choice of becoming a: clinician, researcher, instructor or combination of all three!​
These practitioners are hand-picked from our graduates to recommend to clients in the areas in which these practitioners live and work. We want to open a BioAcoustic Center in every community. Start your BioAcoustic career today by beginning our BioAcoustic Basics class.
BioAcoustic enthusiasts love Sound Health because of all of the free education we provide online. Check out our vimeo channel and join the hundreds of people around the world watching and learning today!
Educational Opportunities
Through programs we host, such as The Guardian and the BARA programs, the serious BioAcoustic Researcher / Practitioner can further their studies with topic-specific courses that take place regularly.
Original Updated Textbooks
Sharry Edwards, innovator & director of Sound Health, regularly updates the BioAcoustic textbooks. At Sound Health we are eager to share our knowledge and new wave technologies with the world.
You are free to the extent that you can flow with your own reality.
In order to change something, don't struggle to change the existing model. Create a new model and make the old one obsolete.
What people are saying about our programs!
Practitioners, former students, radio listeners and clients espouse their gratitude for Sharry Edwards and the fine work at Sound Health.
"Rachel and I wanted to share with you that we have a client that has dealt with leg, knee and ankle pain along with depression…  He stated that he is about 95% pain free and you could tell in his voice how excited he was to tell the world… It was amazing that some of the frequencies for depression also correlated to the muscle pain issues. Rachel and I appreciate everything and are looking forward to the future as practitioners."
Rachel & John Grove
BioAcoustic Practitioner
"Sharry- what a blessing you have been given to share this with the world. Truly a treasure…..thank you sooooo much! I told my husband about it and he wants to do the happy hour next Tuesday with you!!!! Love and Blessings!"
Jessica Garcia
Radio Listener
"Sharry, absolutely! I woke this morning with everything aching and creaking. When I listened to your program at mid-day and you mentioned the "frequency of the day" and related issues, I felt so relieved. You virtually described everything I was feeling. This post and today's Blog Talk Radio program were so helpful! Thanks for all you do."
Anne Richards
Radio Listener
"I've been helping so many people just from purchasing the software with the free class…. awaiting the marketing class….Go Sharry!"
Lance Johnson
BioAcoustic Student
"Your work is fascinating and a breakthrough in medicine! It is very important that we spread the word as much as possible!"
Virginia Toupin
Fan of BioAcoustics
"I listened to you speak on the Carol Ritberger podcast… WOW! I'm so excited about the future! It seems that so much brilliant information is coming out that will change life as we know it!"
Diane Pfister Drews
Radio Listener
Some BioAcoustic Success Stories
Breaking the Sound Barriers of Disease
All issues expressed in frequency equivalents.