New Direction 4 Truth episodes will be available once a month on Tuesdays @ 6 pm EDT
Please note: Topics are subject to change without notice.
This is not a POLITICAL website – We report on candidates from all parties. I'm personally on the side of any candidate who will put the people first, someone who will take care of our veterans, establish reasonable health care, take the fear out of people about the IRS and support the People's Rights. I'm not interested in supporting anything that is not for the BETTERMENT OF ALL CONCERNED
What will BioAcoustic Vocal Profiling reveal about Casey Anthony and O.J. Simpson?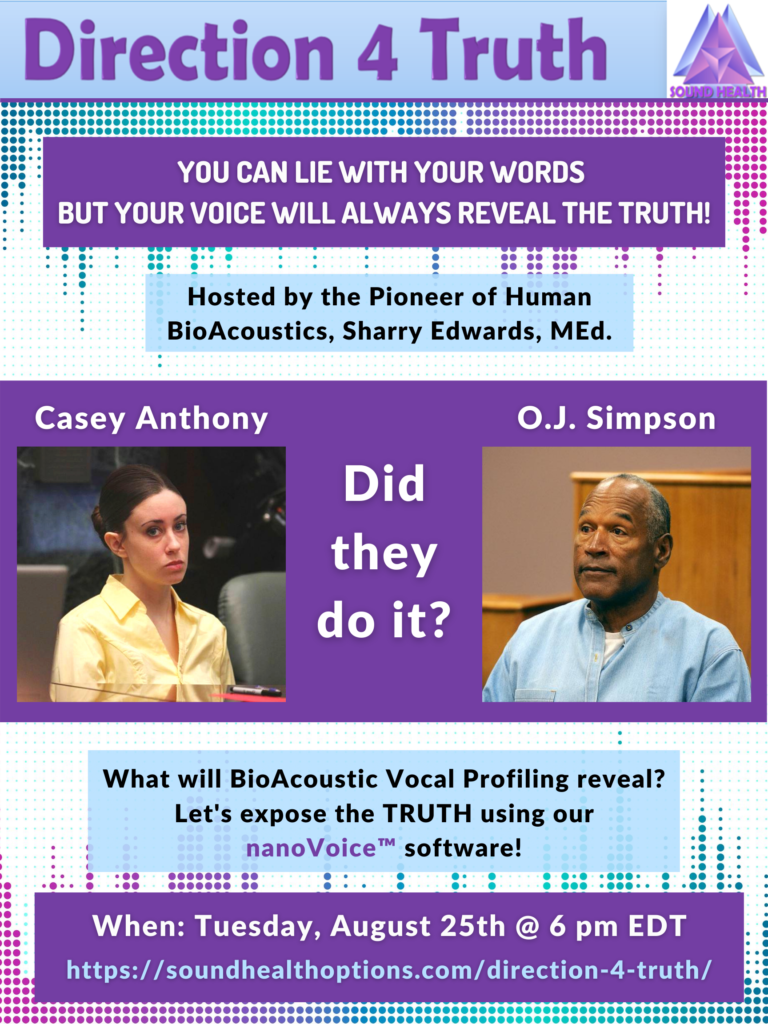 Join us for a new Direction 4 Truth on Tuesday, August 25th as we expose what BioAcoustic Vocal Profiling has revealed about Casey Anthony and O.J. Simpson. You can lie with your words but your voice will always reveal the TRUTH!
POSTPONED - Tuesday May 19th, 2020 6-7 pm EDT
Unfortunately,

Sharry Edwards has caught a bug and is

unable to host

tonight's show. Therefore, the Direction 4 Truth episode on Anti-Aging will be POSTPONED
Sharry sends her sincerest apologies!
This show will now be a live Portal Presentation on July 23rd, 2020 @ 7:30 pm EDT – Learn more here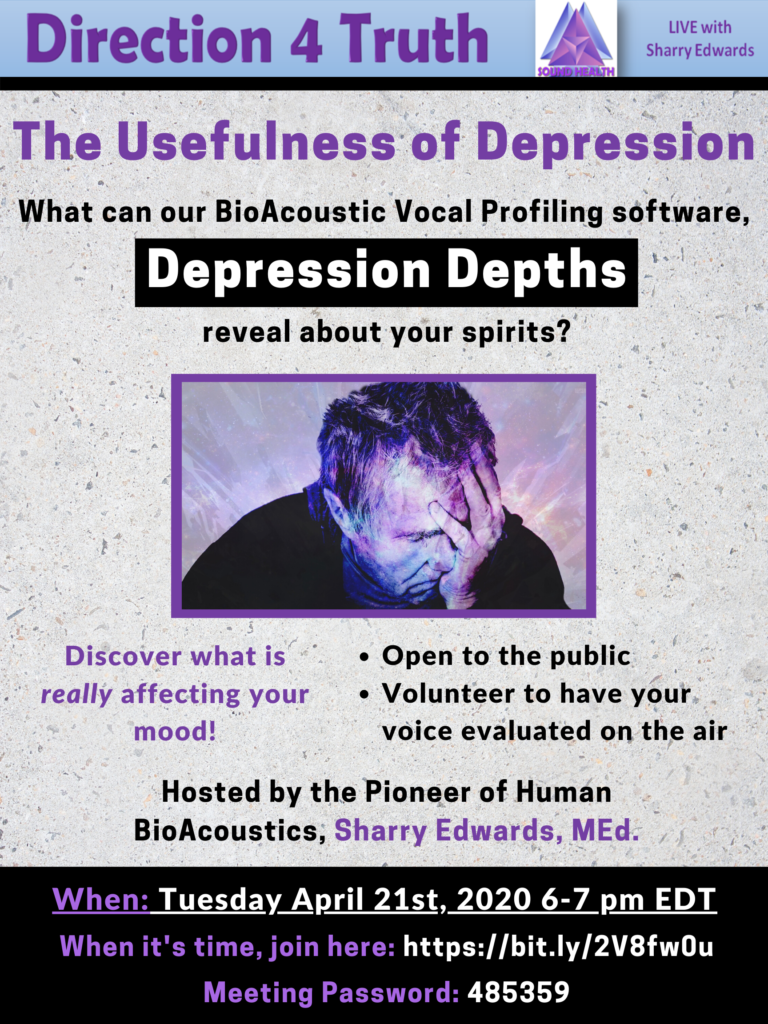 Find the software on our Online WorkStation – The Portal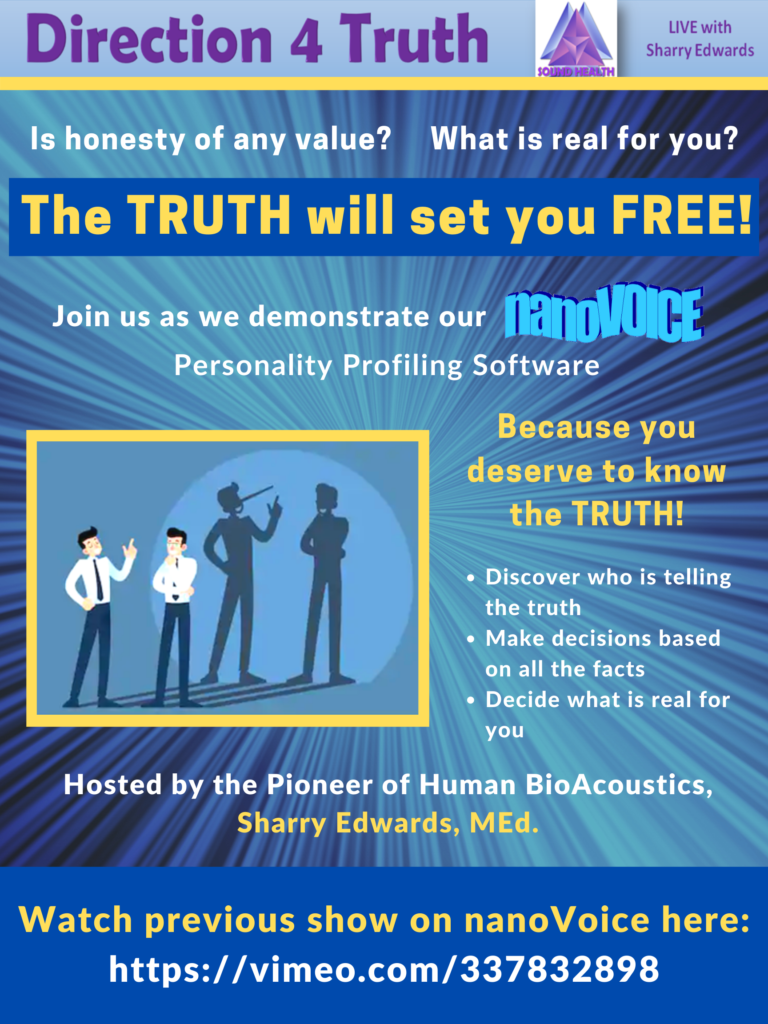 Due to the government temporarily shutting down small businesses in Ohio, we will be presenting one of our favorite pre-recorded episodes on nanoVoice instead of recording a new episode. Watch the previous episode here: https://vimeo.com/337832898
And make sure to check out all of Sharry Edwards' videos on Vimeo.com!
POSTPONED - Tuesday February 25th, 2020 6-7 pm EST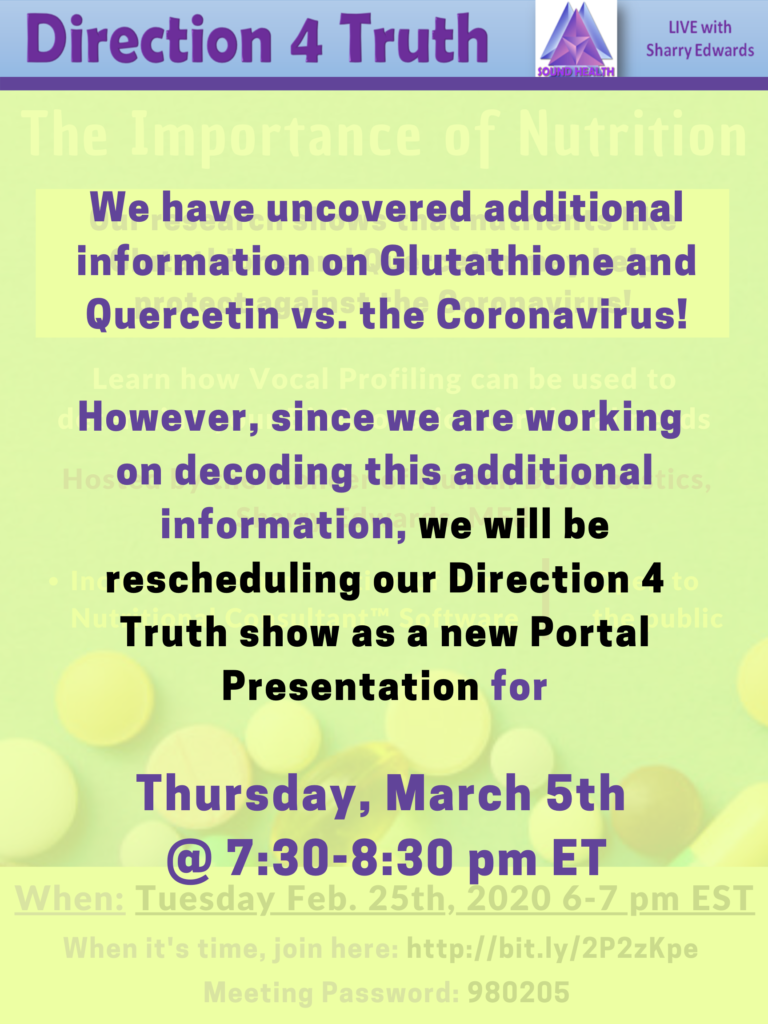 We have uncovered additional information on Glutathione and Quercetin vs. the Coronavirus!
However, since we are working on decoding this additional information, we will be rescheduling our Direction 4 Truth show as a new Portal Presentation for Thursday, March 5th @ 7:30-8:30 pm ET
Tuesday January 28th, 2020 6-7 pm EST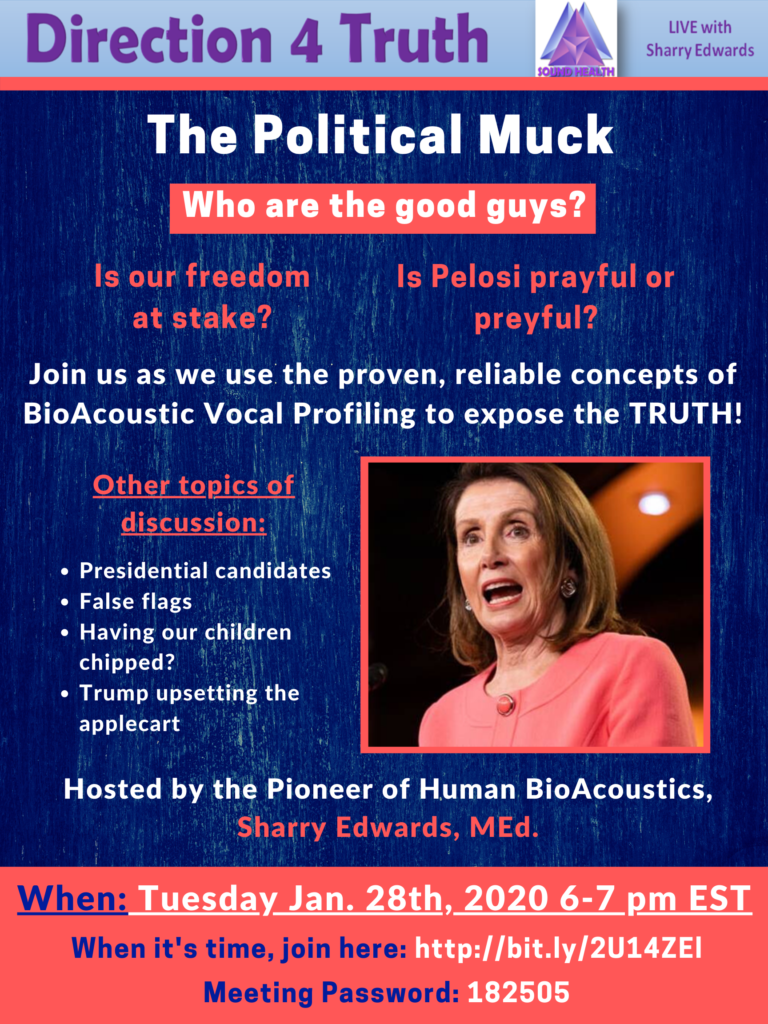 2017-2019 Episodes
In order from most recent to oldest
JULY 30, 2019 THE 'HIT' SQUAD
JUNE 12, 2018 ALZHEIMER'S
MAY 29, 2018 LARRY TRIVIERI JR
MAY 15, 2018 SPORTS PERFORMANCE WITH LEROY MAUGHAN
MAY 1, 2018 THE TRUTH WILL SET US FREE
APRIL 17, 2018 IMPORTANCE OF THE KEYNOTE
MARCH 20, 2018 NARCISSISTS
FEBRUARY 20, 2018 MUSCLES-REVEAL THE SECRETS OF YOUR HEALTH
FEBRUARY 6, 2018 VOCAL PROFILING LIVE!
JANUARY 9, 2018 CREATING THE MEDICINE OF THE FUTURE
DECEMBER 12, 2017 BRINGING BIOACOUSTICS TO LIFE
NOVEMBER 28, 2017 BRINGING BIOACOUSTICS TO LIFE